Hermen Overkleeft RSC Jeremy Knowles Award 2015 Winner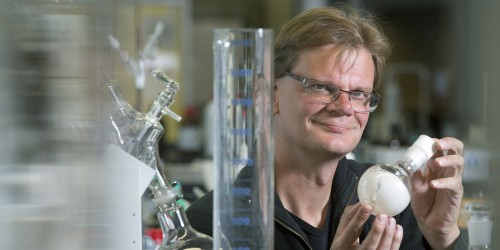 maandag 14 september 2015

10:20
Awarded for his innovative and insightful development of activity-based protein probes for the imaging and identification of enzymes in health and disease.
About the Winner
Herman Overkleeft obtained his PhD degree in 1997 under the guidance of Professor Upendra Pandit (University of Amsterdam) on the subject of iminosugars as glycosidase inhibitors. He then did post-doctoral research with Professor Jacques van Boom (Leiden University, the Netherlands, 1997-1999) on ring-closing metathesis in the synthesis of polyhydroxylated oxacycles and azacycles, and with Professor Hidde Ploegh (Harvard Medical School, Boston, CA, USA, 1999-2001) on inhibition of proteases involved in human adaptive immunity. He returned to the Netherlands in 2001 to assume his current chair of bioorganic chemistry at Leiden University.
His current research focuses on enzyme inhibitors and activity-based probes in chemical biology and medicinal chemistry, in particular in glycobiology and immunology. Comparative activity-based protein profiling experiments are used to study cysteine proteases, proteasomes and retaining glycosidases. Competitive activity-based protein profiling has yielded selective inhibitors for five of the six catalytic activities of human constitutive proteasomes and immunoproteasomes. Activity-based probes are equipped with any of a number of fluorophores, cell surface receptor targeting moieties or with bioorthogonal tags for instalment of these by bioorthogonal chemistry.
Herman Overkleeft has a long-standing collaboration with Professor Hans Aerts (formerly University of Amsterdam, now Leiden University) on glycolipid metabolism and lysosomal storage disorders. Competitive inhibitors selective for glucosylceramidase, acid glucosylceramidase and neutral glucosylceramidase has been developed, and current focus is on the development of a dual glucosylceramide synthase/neutral glucosylceramidase inhibitor as a potential lead for clinical development towards Gaucher disease and neuropathological disorders.
Bron: RSC